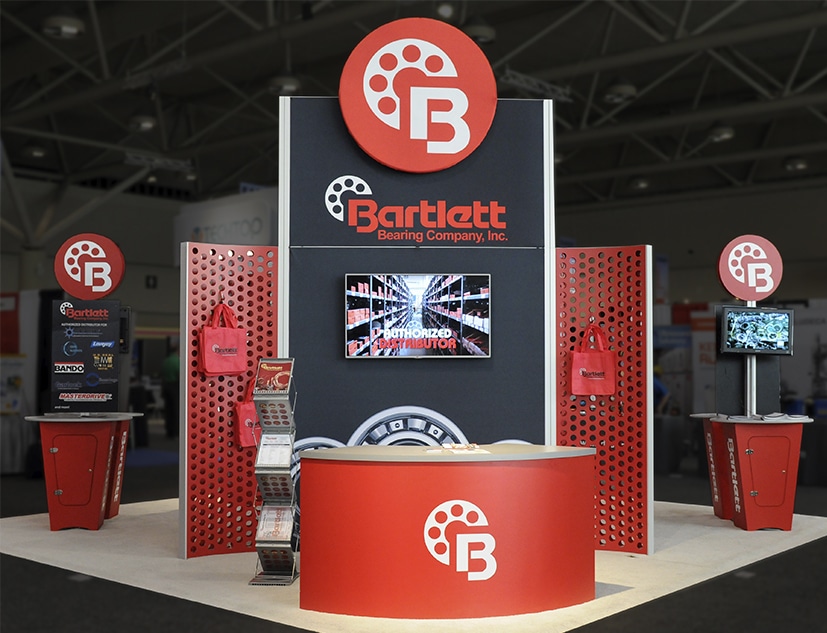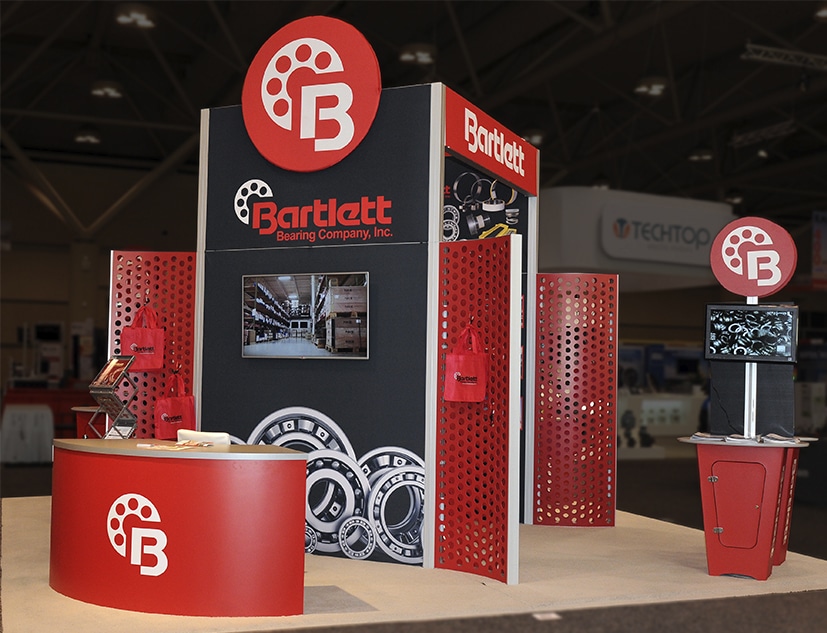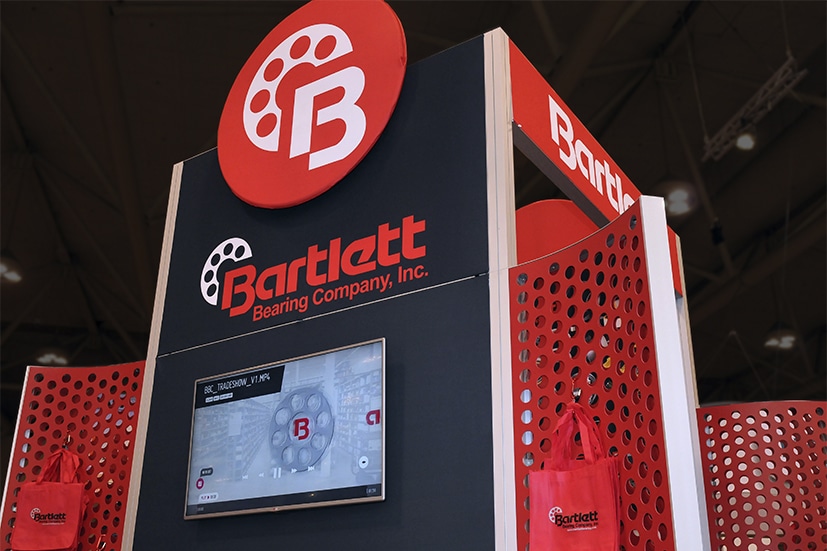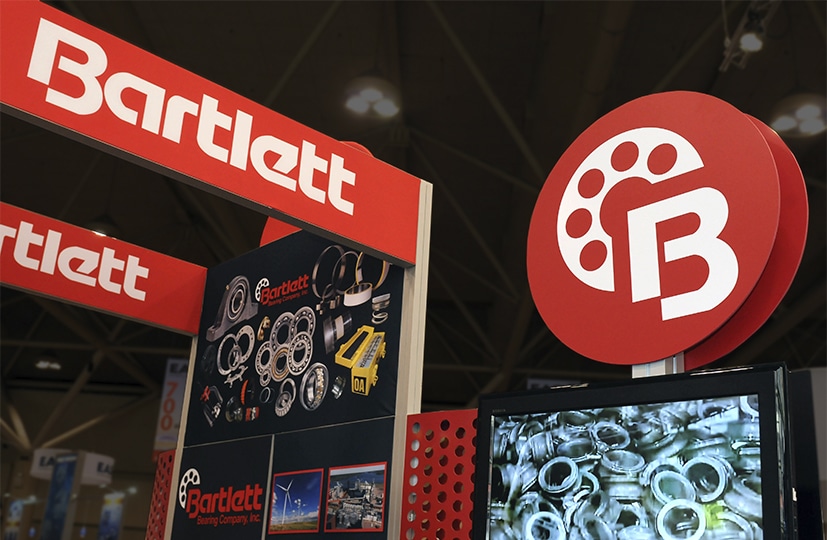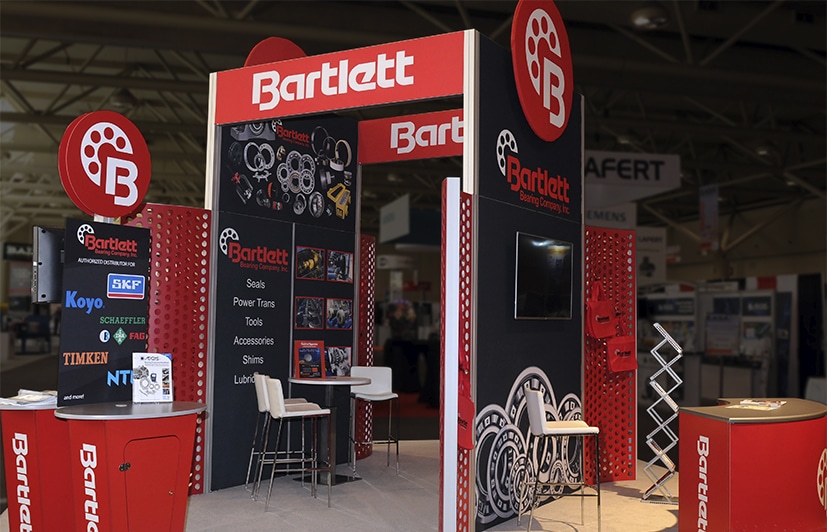 EASA 20×20
"Bearing You in Mind."
---
INDUSTRY
Machinery
Creative
Bartlett Bearing Co. has provided dedicated service for over 60 years. With their growing clientele, they decided it was an appropriate time to upgrade their exhibit.
The company had previous experience with a 10'x10' and 10'x20' inline with a portable booth, but they had never tackled anything larger. Their objective was to expand to a 20'x20' island with an entirely new design and fabrication. This was going to blow everything else they had done out of the water!
In addition to an updated design, Bartlett Bearing also needed an exhibit partner. They chose TEC to provide them with a modernistic booth and exceptional service fit to their budget.
Strategic
A primary request for the new booth was to integrate flexible parts that could be used in future 10'x20' booths. It was absolutely essential that the colors incorporated into the booth were a perfect match of their specific red PMS color. Overall, the design was intended to reflect the product line and company name to convey quality, consistency and reliability.
A final challenge was helping Bartlett Bearing to accommodate their valued partner companies. The bearings company wanted their partners to have equal exhibit space while allowing Bartlett Bearing the biggest presence. To bring this vision to life, they needed a "wow" factor for their new booth so that attendees would be intrigued to pay a visit and also remember who they were.
Fabrication
Bartlett Bearing Co. chose TEC to be their exhibit partner and also to design, fabricate and coordinate all of their tradeshow services from beginning to end. This decision awarded them a seamless and worry-free show that made them stand out against the crowd.
As a family owned and operated business on a tight budget, we needed to be creative with their solutions. A lightweight modular system was used, along with knockdown counters and fabric graphics. We were able to avoid using the showsite riggers by incorporating aluminum-framed, pillow-cased logo elements that attached to the top of the modular system. This provided the booth with ample height and visibility. The flexible modular system also allowed Bartlett Bearing to use the same frames and graphics across all 10'x20' islands.
The challenge with the PMS red logo was tackled by using a wide range of materials that included laminates, fabrics, Sintra PVC and printed materials that complemented each other and achieve the anticipated result. This played into the "wow" factor that we needed to bring to the booth.
Along with their bold, brilliant PMS red logo, we chose matching custom-made perforated walls. The walls complemented Bartlett Bearing's logo and product line, giving it an interesting effect as attendees walked by. Additionally, the perforated walls created a semi-private meeting area where light conversation could take place without taking away from the open, inviting look and feel of the island exhibit.
One final goal was to give Bartlett Bearing the biggest presence in their booth while still pointing some attention toward their partners. We accomplished this by giving the partners freestanding kiosk units with counters and graphic areas.
Everything came together brilliantly thanks to our exceptional design team and professional fabricators. We were pleased to overcome the challenges that Bartlett Bearing faced at the start of the project. With diligence, patience and expertise, we were able to turn their trade show exhibit into the worry-free island booth they needed to take their business to the next level.
Online Tools